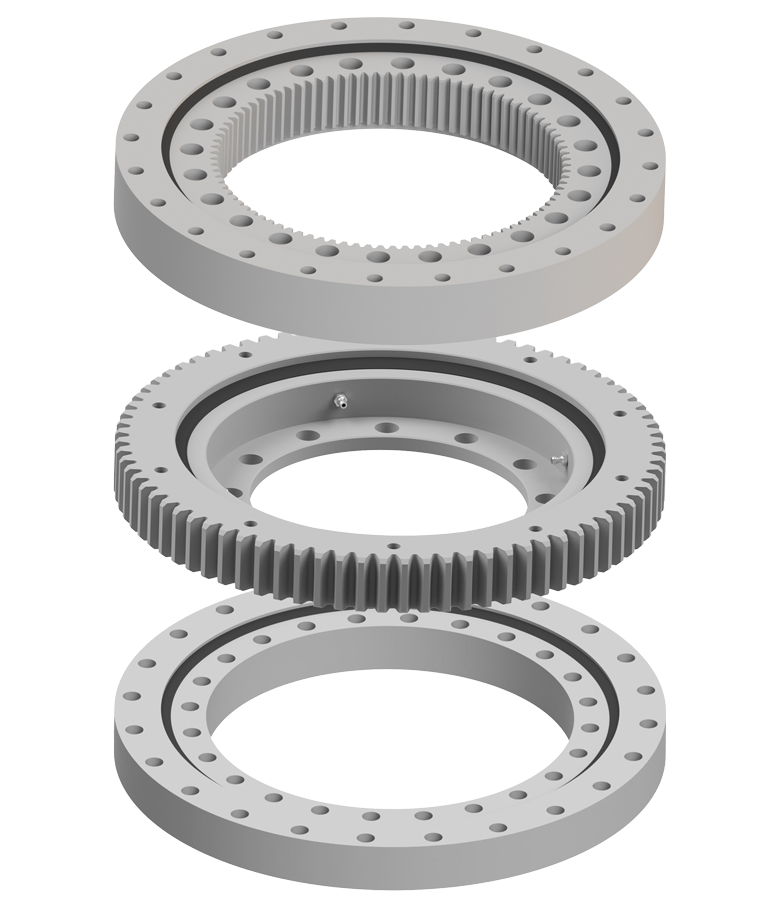 Slewing rings or turntable bearings are designed for 360-degree rotation, absorbing high axial, radial and tilting loads. They consist of two concentric independently rotation rings with a ball bearing or roller bearing in between. The power and versatility of slewing bearings has made them increasingly valuable in different industries.
CAMM Drive slewing bearings are produced according to the latest technologies and made out of the highest quality materials. Our product portfolio comprises slewing rings with a single-row and double-row rolling element (four-point contact bearing or double four-point contact bearing). Sizes starting from 100 mm up to 2,300 mm (OD) and larger sizes are available upon request. Pinions are available to guarantee a smooth rotation with the external or internal gear.
CAMM Drive ability to customise slewing rings is unique, This origins from our philosophy; advise and support OEM manufacturers throughout the entire engineering and production process. Our team of experienced engineers is available to propose you innovative and customised solutions, meeting your most demanding specifications by using the latest calculation software as well as Finite Element Analysis (FEA).
Generally, slewing rings come in a large variety of sizes and configurations. CAMM Drive is carrying large stock of slewing rings interchangeable with all the standard series available in the industry.
Slewing Rings At A Glance
CAMM Drive develops and manufactures slewing rings together with carefully selected industry partners. The quality of the slewing rings is guaranteed by producing strictly under internationally recognized production and quality standards.