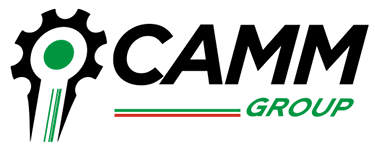 CAMM Group is a forward-thinking company established by different entrepreneurs who carry over 20 years of experience in the mobile construction industry. We successfully apply our knowledges of customer requirements in mechanical and hydraulic engineering. The CAMM Group is committed to providing high quality mechanical and hydraulic components to a large variety of industries, staring from agricultural equipment to robotics. With corporate offices and warehouses based both in Italy and The Netherlands, we give premium support and service to customers all over Europe.
Our product range consist of Slewing Rings, Slewing Drives, Hydraulic Swivel Joints, Rotary Actuators (patented design), Hydraulic components and Customised Gearboxes.
Our innovation is always lead from the collaborative perspective. We establish partnerships and provide the required sources with an open stance to build a beneficial relationship. We advise, develop and manufacture components for the next generation machinery of well-known Original Equipment Manufacturers (OEM). With our market expertise and application know-how we offer more than other suppliers can do!
WE TURN YOUR FUTURE

CAMM Group members are CAMM Fluid Srl and CAMM Drive BV

CAMM Drive is a EU based limited, modern, dynamic company specialised in the design and development of slewing rings and slewing drives. Advanced production technologies, competence and professionalism guarantee suitable solutions for many industrial sectors. Our slewing rings and slewing drives are designed, manufactured and extensively tested to meet the highest demands of our customers! Both as standard product, special or OEM product.
More information can be found under 'products'.
Our role in your proces
Our components and solutions help manufacturers meet the toughest goals in terms of emission regulations, increasing productivity and reliability at the same time. Excellence in innovation, service and quality are key to mutual success!
Ambition
Our aim is to become a point of reference for manufacturers of mobile and construction equipment, creating strong and long-lasting relationships by offering innovative components and professional service at balanced cost prices.

CAMM Fluid Srl
CAMM Fluid offices are located near Brescia (It) right in the centre of Europe's fluid power industry. CAMM Fluid is a limited, specialised in the design, development and manufacturing processes of hydraulic rotary couplings (swivel joints), rotary actuators and customised gearbox reducers.
CAMM Fluid recently presented different masterpiece designs: